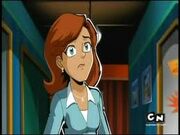 Karen Clark is the mother of Lee, Marc, Megan and Tony. She was formerly a spy with her husband Cal.
In the end in the movie Problematic Twins it returns "aserlo" with his husband.
After the twins won, "alos I" erased the memories.
Her sister Trudy's last name is Vanderhoug (Operation: Nano Spiez), and since she doesn't seem to be married, that could possibly be her maiden name. Also, since Vanderhoug is a Dutch name, it could be possible that she is of Dutch origin, along with her kids.
She is a real estate agent.